YUZU
GINGER TEA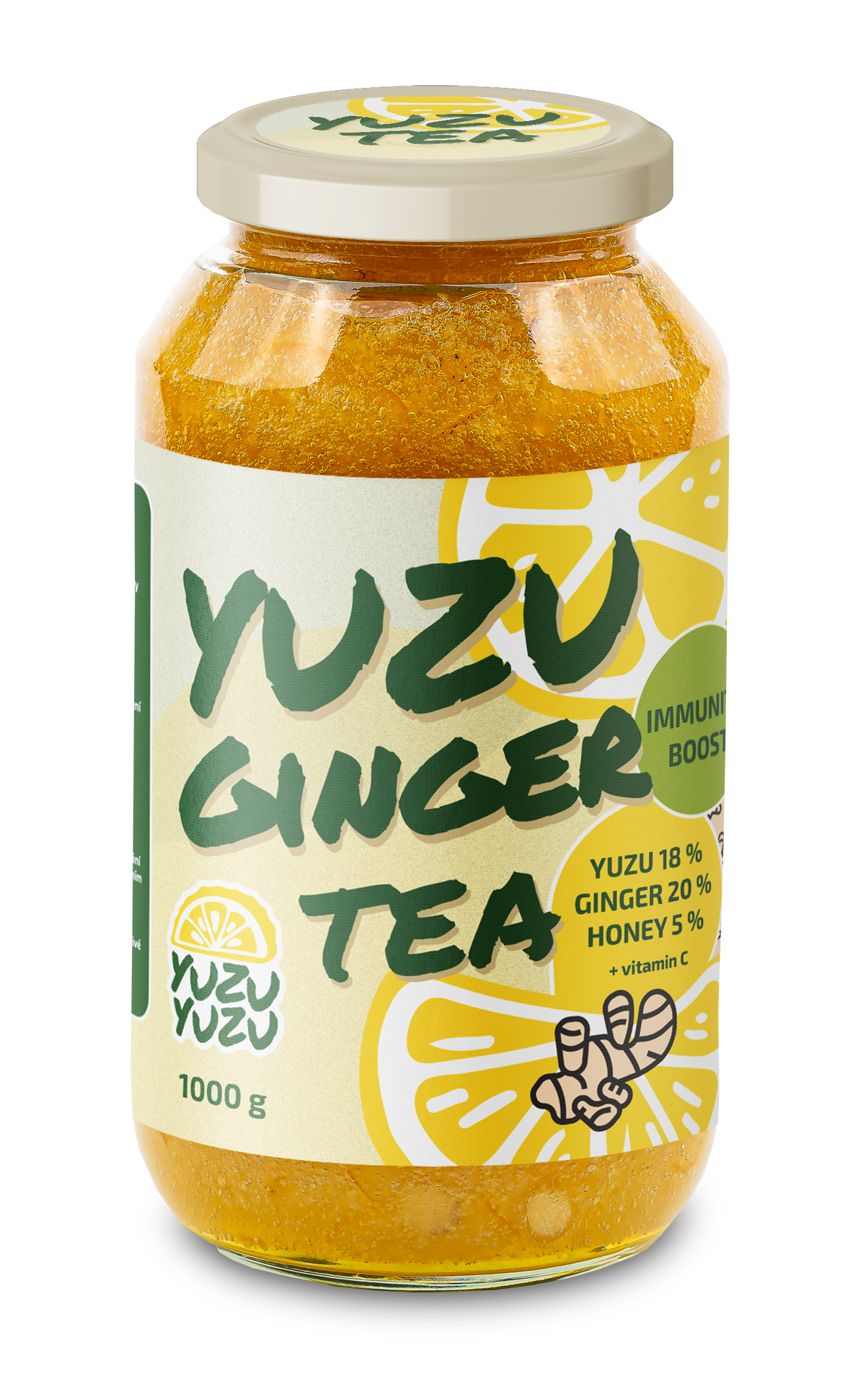 Warm ginger and refreshing yuzu in honey make an irresistible combination of flavours that will give you energy and boost your immunity. Healthy Yuzu Ginger Tea also contains an extra amount of vitamin C, antioxidants and minerals.
We recommend enjoying this drink as iced lemonade on hot summer days, when you can give your body a tasty and healthy refreshment and provide it with the necessary vitamins, antioxidants and minerals. In the hot summer, the body loses a lot of fluids and with them vitamins and minerals, so replenishing them with a proper drinking regime is essential. Antioxidants also protect your skin from harmful radiation.
You will appreciate the true power of Yuzu Ginger Tea in the chilly autumn and winter months, when you can prepare a hot drink that will boost your immunity. In times of illness, the high vitamin C content and unique combination of antioxidants will help you recover faster in a completely natural way.
To make a hot drink, use 1 tablespoon (approx. 35 g) of Healthy Yuzu Ginger Tea per 250 ml cup – just pour in hot water. To make lemonade, mix 1 tablespoon in a small amount of water, add ice and top up with cold water to 250–300 ml.
One cup or glass of Healthy Yuzu Ginger Tea will provide your body with 173% of the recommended daily allowance of vitamin C and a large amount of unique antioxidants.
What are Yuzu citrus fruits?
Yuzu (Citrus junos) is a type of citrus fruit also known as Yuja, Yuza or Yóuzi.
The first references to the beneficial effects on human health come from China and are more than 1000 years old.
Because of the special requirements for cultivation, Yuzu citrus fruits can only be found in China, Japan and South Korea, which is where our Healthy Yuzu Tea comes from.
Yuzu looks like a small yellow grapefruit, but with a thicker and uneven peel
Its taste is tangy, sour and bittersweet – like lemon, tangerine and grapefruit all rolled into one.
Ripe fruits contain on average 3 times more vitamin C than "normal" lemons.
They are a rich source of natural antioxidants and minerals.
What can ginger do for you?
Ginger has been considered a rare panacea since ancient times. In the 14th century, a pound of ginger was worth one sheep. Ginger contains many antioxidants and vitamins, and thanks to their unique combination it can rid the body of many ailments.
Boosts immunity
Has anti-inflammatory effects (antiviral and antibacterial, effectively helping with respiratory diseases)
Positively influences heart function and blood circulation, helps lower cholesterol levels
Relieves pain
Reduces nausea and kinetosis
Supports weight loss
Has a positive effect on increasing sperm count and motility
Fresh Yuzu citrus fruit 18%
Ginger root 20%
Honey 5%
Vitamin C 395 mg/100 g (1 cup = 173% of the RDA of vitamin C)
Great unique taste
Immunity boost
Vitamin C and antioxidant replenishment
A fragrance that will put a smile on your lips
Simply an experience – enchanted by the exotic citrus scent, you'll enjoy a great treat and do something for your health