Ginger root essential oil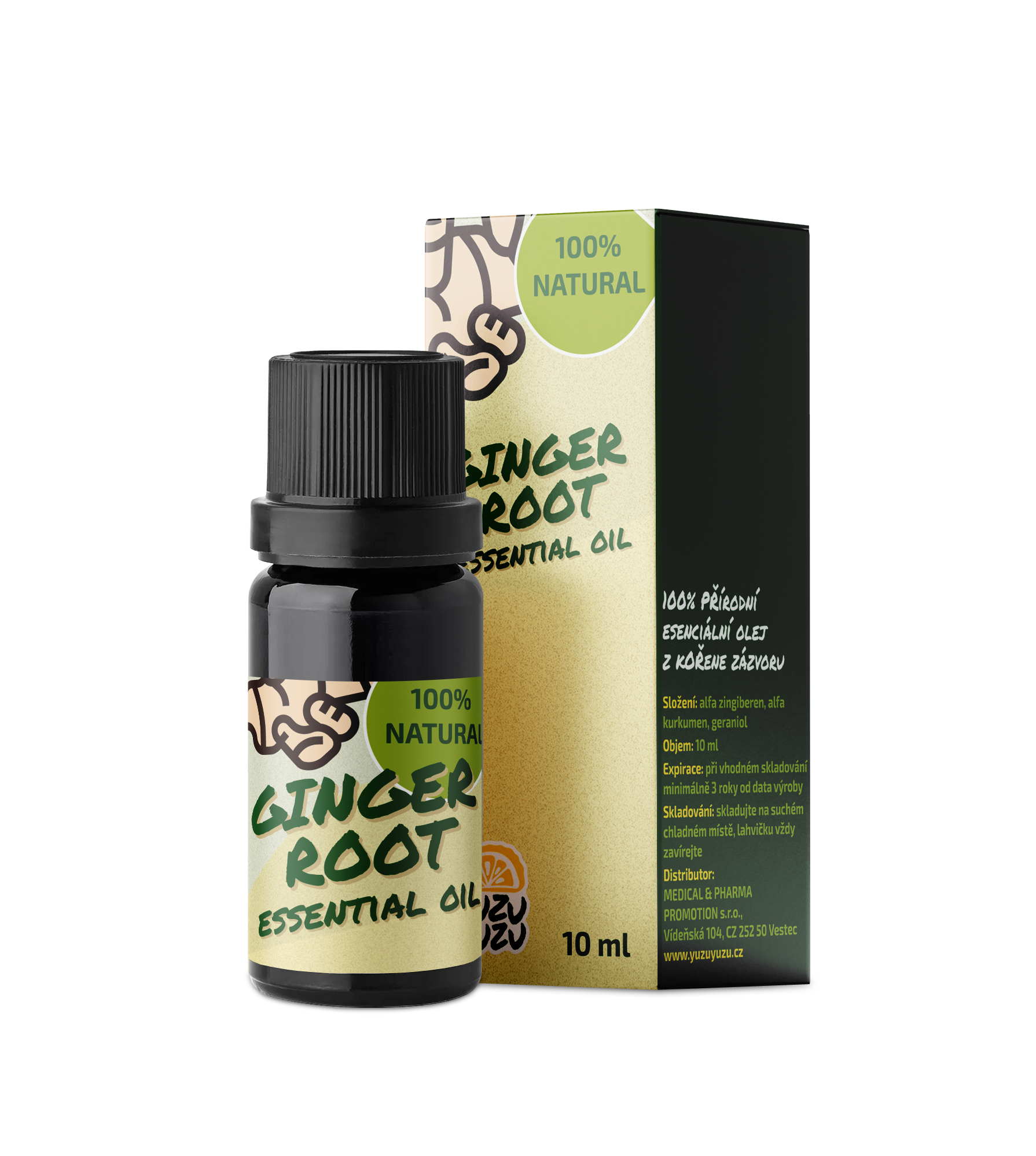 | | |
| --- | --- |
| Botanical name | Zingiber Officinale |
| Country of origin | India |
| Type of extraction | steam distillation of root extract |
| Plant part used | root |
| Appearance | yellow liquid |
| Strength of aroma | strong |
| Safe for children and pregnant women | yes |
| Ingredients | alpha-zingiberene, alpha-curcumene, geraniol |
| | |
The amazing things that ginger oil can do for you
Supports immunity, is antimicrobial and anti-inflammatory Improves respiratory function, relaxes the airways
Supports proper stomach and liver function
Helps with indigestion, relieves symptoms of food poisoning, also counteracts nausea
Relieves symptoms of viral infections
Supports proper heart function, improves blood circulation and helps lower cholesterol
Helps with anxiety and depression
Relieves muscle, joint, menstrual and other pains
Supports libido
Ginger root has been considered a panacea for centuries. In the 14th century, a pound of ginger was worth one sheep. Ginger is widely used for viral infections, nausea, muscle and joint pain, to regenerate the body and improve circulation. In some cultures it is considered an aphrodisiac.
YuzuYuzu highly concentrated essential oil is extracted from the root of Indian ginger using the process of steam distillation. Ginger oil has a distinctive aroma that can be described as strong, warm, spicy, woody and earthy. It is primarily used in aromatherapy, but also in medicine and cosmetics.
Ginger oil is a great help, especially for the autumn and winter months, thanks to its antiseptic effects. Combining ginger oil with citrus oils in a diffuser (e.g. with Yuzu oil) will scent your home and also clean the air of viruses and mites. For other ailments, we recommend keeping a bottle of ginger oil at home year-round.
Ginger oil is used to improve blood circulation, as a common component of massage blends, and to relieve muscle and joint pain. Slightly diluted ginger oil in a diffuser can help relieve nausea and kinetosis.
Body
Thanks to more than 40 different antioxidants, ginger oil protects the skin from free radicals and thus from premature aging, improves elasticity, regenerates the epidermis, and helps reduce hyperpigmentation and soften scars. Thanks to its antiseptic properties, it helps detoxify the skin, allowing it to breathe naturally. It helps with the healing of acne and minimises its further formation.
Mind
On an emotional level, this oil has energising and uplifting effects.
We recommend trying combinations of fragrance blends
The spicy, earthy notes of ginger essential oil blend well with other warm oils such as cinnamon and cassia. You can also blend ginger oil with sweet citrus scents like wild orange, Yuzu oil or ylang-ylang.
Safety warning
Like any essential oil, ginger oil is mildly phototoxic, so it is not recommended to use it in direct sunlight where skin irritation is a risk. We also do not recommend using the oil in the bath if there is a risk of irritation to sensitive skin areas.
If applied to the skin, it should be tested on a small patch of skin for tolerance. It is also advisable to dilute the oil with cold-pressed vegetable oil to prevent possible skin irritation.