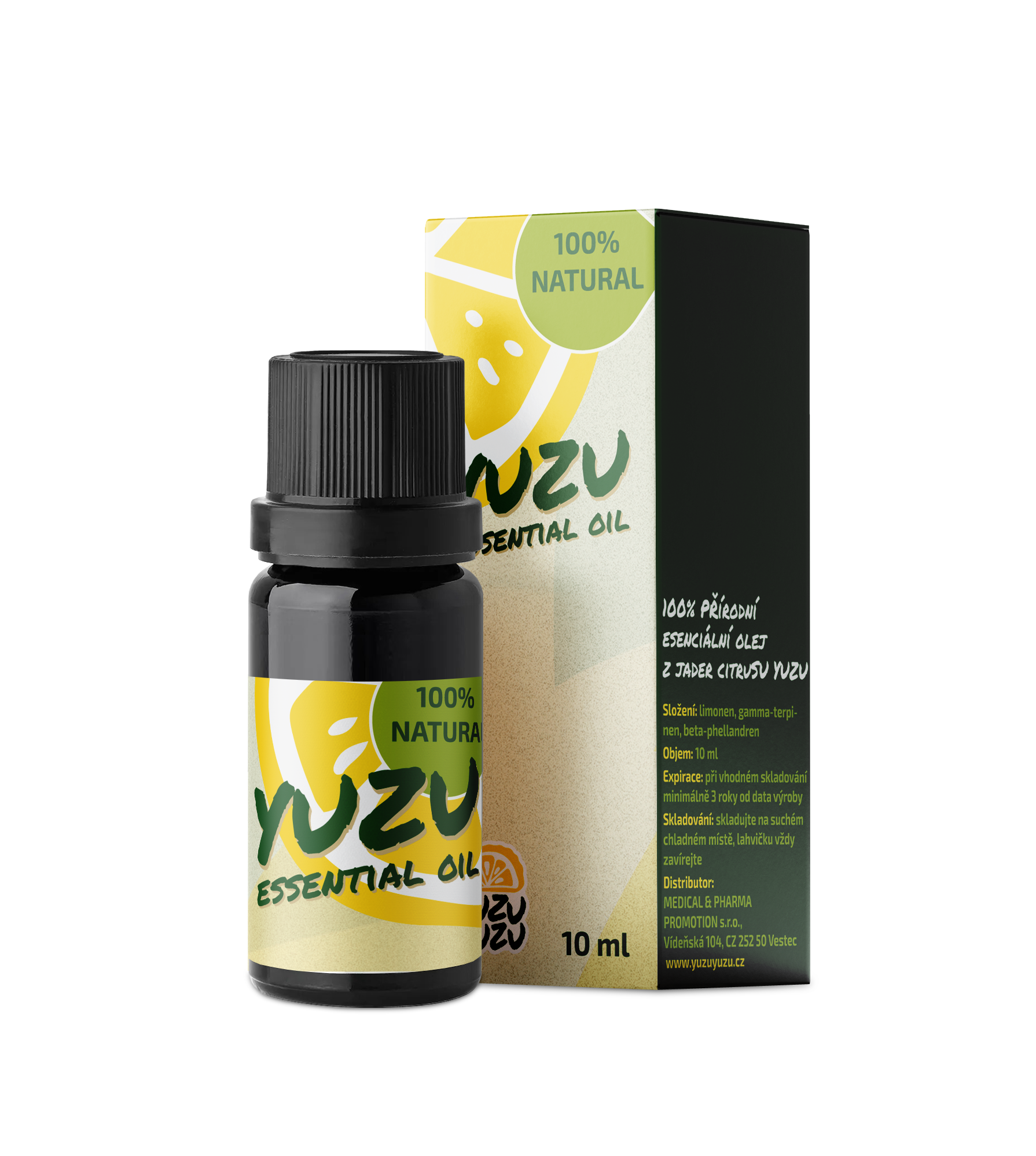 | | |
| --- | --- |
| Botanical name | Citrus Junos |
| Country of origin | Japan |
| Type of extraction | cold-pressing method |
| Plant part used | citrus peel |
| Appearance | yellow-gold liquid |
| Strength of aroma | medium |
| Safe for children and pregnant women | yes |
| Ingredients | limonene, gamma-terpinene, beta-phellandrene |
| | |
The amazing things that Yuzu oil can do for you
Provides emotional calming and mental uplift
Relieves stress and tension
Helps eliminate infections
Soothes sore muscles, relieves inflammation
Improves blood circulation
Supports respiratory function and prevents excessive mucus production
Supports healthy digestion
May help relieve occasional nausea
Strengthens immunity
Inspires creativity – stimulates the left hemisphere of the brain
Yuzu essential oil is cold-pressed from the peel of East Asian citrus fruits (Citrus junos). Like other essential oils, it is highly concentrated. Yuzu fruit is a natural hybrid of the tangerine and the Ichang wild lemon and resembles a small bumpy orange. Grown mainly in Japan, Korea and China, it has been used in Asian aromatherapy and cuisine for hundreds of years.
Yuzu is incredibly aromatic, with a super sour taste. Like lemons and limes, the fruit is too sour to eat, but its peel and juice are widely used to flavour everything from spicy sauces to liqueurs and marmalades. It is also used in high-end perfumes.
In Japan, Yuzu is a symbol of new beginnings and radiant health. It is traditionally used in a hot bath at the winter solstice to help warm the body, ward off winter ailments, calm the mind and help people with individual motivation.
Yuzu essential oil has a fresh, unusual citrus aroma – like a blend of grapefruit and tangerine with hints of bergamot and lime. The oil is not commercially produced in large quantities and is therefore more expensive than other citrus oils.
Body
Yuzu essential oil can help brighten and tone the skin. It is especially good for devitalised skin and helps fight the signs of aging thanks to its high antioxidant content. Its powerful antibacterial properties can also be beneficial for oily/problem skin and skin infections. Yuzu oil has strong antimicrobial properties that protect the body from colds and other infections. It can also help relieve various pains, including arthritis and rheumatism. It is beneficial to the respiratory system, helping to soothe inflammation and clear mucus and congestion. It can help with digestive problems – it relieves inflammation, eases nausea and soothes cramps. Its relaxing properties can also help you get a good night's sleep.
Mind
Yuzu essential oil has both uplifting and calming properties that make it useful for problems such as anxiety, stress, depression and nervous tension or exhaustion. It can help clear the mind and support a more confident and optimistic view.
We recommend trying combinations of fragrance blends
Yuzu notes blend well with all other citrus oils. Try mixing it with small amounts of basil, sage, Roman chamomile, frankincense, geranium, jasmine, lavender, neroli, patchouli, rose, sandalwood, vetivert or ylang-ylang.
Safety warning
Cold-pressed Yuzu oil is phototoxic and should not be applied to the skin directly exposed to sunlight. Take care to store the oil properly. If the oil oxidises, it may cause skin sensitisation.
If applied to the skin, it should be tested on a small patch of skin for tolerance. It is also advisable to dilute the oil with cold-pressed vegetable oil to prevent possible skin irritation.